Cut work embroidery is a unique style of embroidery created by cutting away pieces of the fabric and embroidering the resultant gaps into a beautiful pattern. This type of work is often confused with lace, as it has a similar look, but is in fact quite different. The holes in the fabric are not punched through (as with lace) but are instead cut away or pulled out using a variety of techniques.
Cut work embroidery designs were first created in Europe during the Italian renaissance but are today famous around the world. Over the years this technique spread to various other regions like Persia, Turkey and India, with each country producing its own unique style of cutwork embroidery.
Making Of Cut-work
The answer to the question of 'how to make cut work embroidery' would differ from country to country. The ancient techniques of creation are quite different from the methods used today. In fact, today designers have come up with many specific variations like reticella, Hedebo, Broderie Anglaise and whitework, some of them inspired by the regional variations from specific countries.
In India, cut work is also termed jaali work and is produced by pulling the warp and weft threads apart without disrupting the continuity of the fabric. The holes are then embroidered into intricate designs. This type of cutwork technique is predominantly used in Chikankari work, a delicate form of embroidery from Lucknow in Uttar Pradesh.
No matter what methods are used to create cutwork designs, the final result is something exquisite and extremely beautiful. It is one of the best ways for any garment to look fashionable and fancy, without giving up on comfort for the wearer and affordability. This is because cut work looks intricate and detailed but utilizes no extra materials like stone, sequins, and beads which add to the cost and weight (and therefore discomfort) of the garment.
A Staple Embroidery in India
This type of embroidery is extremely beautiful and many women wonder how to do cutwork embroidery and if this can be done at home. While it is definitely true that hand cutwork embroidery designs are the most beautiful and delicate looking, these can only be produced by skilled workers with all the knowledge about how to pull off the cut work without tearing the fabric.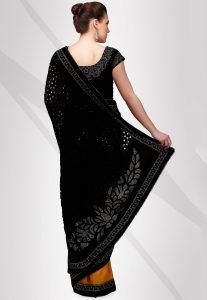 The Indian version, jaali work, is even more delicate and quite difficult to execute. Moreover, the creation of complicated and artistic designs with this technique is something that only those with in-depth knowledge of embroidery would be able to pull off. In order to get something authentic and attractive, it is best to purchase this type of design from a reliable retailer rather than try to emulate it at home.
Indian garments sporting delicate and beautiful cutwork embroidery by hand have become famous around the world. Chikankari and jaali work sarees have frequently been spotted at international red carpets while cut work embroidery sarees and blouses are a runway staple in Indian fashion. This trendy look has been accessorized and styled in a lot of different ways but the one common theme is 'keep it simple'.
Cut-work Sarees
In India, sarees are probably the most common type of garment adorned with this work; the long yards of fabric are beautifully accentuated by cut work designs. Chikankari sarees are extremely popular with women across India, and have an extremely elegant and sophisticated look. They typically come in white and other soft pastel shades, though one can also find bright hues like red, blue and yellow. Western style needlework is also used to decorate cut work embroidery sarees, though this type of work is usually limited to the border area.
The borders are very large in size with intricate, artistic designs twisted into beautiful floral and nature-inspired shapes. Western inspired cut work embroidery patterns in Indian garments like sarees and salwar kameez were first introduced by high-end designers as an innovative, fusion style of ornamentation for ethnic wear. This is why designer sarees come with the most aesthetically pleasing and gorgeous cut work embroidery patterns.
Another type of designer innovation trend that has become extremely popular today is that of the cut work embroidery blouses. These either have cut work borders or are layered with a cut work fabric over a plain, shiny material like silk or satin to create a luxurious effect. They have very sophisticated yet feminine look and come in a wide range of colors, designs and patterns inspired by Indian and western motifs.
Accessorizing Your Look
In terms of jewelry, this means that rather than selecting multiple pieces of ornate Indian jewelry, it is best to pair up cut work embroidery patterns with single sophisticated statement pieces like a pearl necklace, gold nath, Kundan kamarbandh or gold jhumkas. To finish off the look, women can opt for a simple silk clutch with subtle patterning and high heel sandals in a neutral shade like beige or black.