Sarees are the queen of garments in India. They have been worn in the Indian subcontinent for many centuries and though they have evolved in their form and designs over the years, they have always remained one of the most popular and in-demand garments for women. Their beauty, grace and elegance has ensured that even today, saris are considered one of the most stylish garments in the world and are worn by women for a number of different occasions. A surprising outcome of the popularity of
A surprising outcome of the popularity of sarees is that their versatility not only extends to different fashion situations and requirements but also in other spheres such as home décor. In fact, the sari curtain has become a huge trend in recent times, not just in India, but in countries across the world where there is a demand for ethnic fashion, fabrics and textiles.
Sari curtains are essentially sarees which have been converted into curtains to drape over windows. This trend is considered a new one but in fact has its roots in ancient Indian customs. In many sections of the country, the primary economic motto is 'waste not, want not'. Recycling not only extends to various organic materials but also to textiles, fabrics and garments.
Save Big
These are re-utilized to save on money. The fact is that sarees, though extremely popular, tend to be expensive, especially in their formal or party wear avatars, which is why when they became unfashionable or old, they were converted into curtains. Today, of course, Indian sari curtains are a major home décor trend in themselves and a completely stand alone item.
However, people can still chose to create their own saree curtain by recycling last season's saris or even by purchasing a saree specifically for this purpose. The main drawback here is that the saree would have to be tailored into a curtain at additional cost, as compared to ready-made saree curtains which are already stitched in the form of curtains.
Infinite Designs
Just like the saris , Indian saree curtains can be of many different types. From the fabric, color and designs to the patterns and weaves, there are many variations in this type of ethnic home décor. Some are simply sari fabric curtains in which the unique, traditional textiles such as Ikkat silk, Mysore silk, Chanderi silk, Kosa silk, Gadwal textiles and so on are used to make curtains.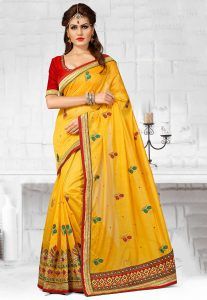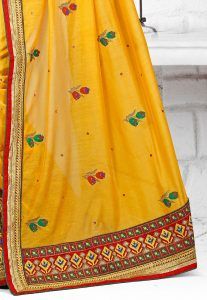 These will not have borders and pallu areas like in a classic sari, but will utilize materials that are typically reserved for saris. Multiple, rich sarees can be combined to make curtains with saree curtain panels which add an inimitably rich and opulent look to the home. Silk sari curtains are probably the most popular, mainly because of the beauty and sheen of silk and the tremendous variety of options available in silk saris (which then translates into a variety of options for curtains themselves).
From exquisite Kanjivaram and Banarasi saris to fine looking Jamdani saris, silk sari curtains can reflect the look of different types of traditional garments from India. Sari patchwork curtains often come with detailed and beautiful embroidered and embellished designs, created using traditional patchwork designs.
These fine looking sari material curtains are different from other curtains because they reflect their original state in their designs and patterns. The detailed and often artistically decorated pallu part is clearly visible, as well as the large and ornate borders.
Multiple Uses Also
Whatever the type selected, adding saree curtains from India can be a great way to add some ethnic flair to any home. These will, of course, match beautifully with homes boasting of a distinctly ethnic vibe, created by using embroidered cushion covers, diwan sets and vibrant Indian bedspreads. At the same time, they are unusual and distinctive enough to create a unique look for the home even when western home décor items are prominent.
Moreover, customers can opt for specific saree styles that appeal to their tastes, décor and heritage. Customers with homes that have wooden floors and warmer tones everywhere can opt for pink, gold, orange and other such vibrant colors in the saree curtains while those with a cooler color scheme can opt for soft, floating Chanderi saree curtains which have a translucent beauty and often come in shades of white and beige. Those who want to embody their unique heritage in some way can opt to convert traditional sarees such as Kanjivaram or Banarasi saris into exquisite, rich looking drapery for their windows and walls.
Silk sari curtains have become extremely trendy of late, especially the ones made from traditional varieties of saris. Many people choose to decorate their entire home with sari curtains, from the large windows to the open doorways; the one type of curtain that cannot be created with a sari: shower curtain!