The world's leading authority on color, Pantone, releases its eagerly awaited Color of the Year each year, establishing trends for the global fashion, design, and creative industries. The Color of the Year for 2023 is Viva Magenta, a bold and vivacious hue that exudes exuberance, confidence, and empowerment.
Indian fashion has always been synonymous with a riot of colors, and the introduction of Viva Magenta opens up a world of intriguing new opportunities. You can make a strong and stylish statement at any event by skillfully incorporating this explosive color into a variety of Indian ethnic wear. From traditional saree dresses to gorgeous lehengas and stylish Indo-western ensembles, Viva Magenta adds a dash of vibrancy and modernity to your wardrobe. Additionally, this striking shade offers an excellent chance to celebrate India's rich cultural heritage while giving your collection of Indian clothing a modern twist. So let's explore how you can embrace Pantone's Color of the Year 2023, Viva Magenta, with Indian wear panache.
Embrace the Allure of Viva Magenta Silk Sarees
Traditional sarees are one way to embrace Pantone's Color Viva Magenta. Opt for a gorgeous silk saree in Viva Magenta with exquisite gold zari embroidery to create a stunning contrast and a regal look. The boldness of the color will make you stand out, whether it's a wedding or a party. Pair it with a complementary elegant blouse in a contrasting color like gold or deep purple to enhance the overall appeal.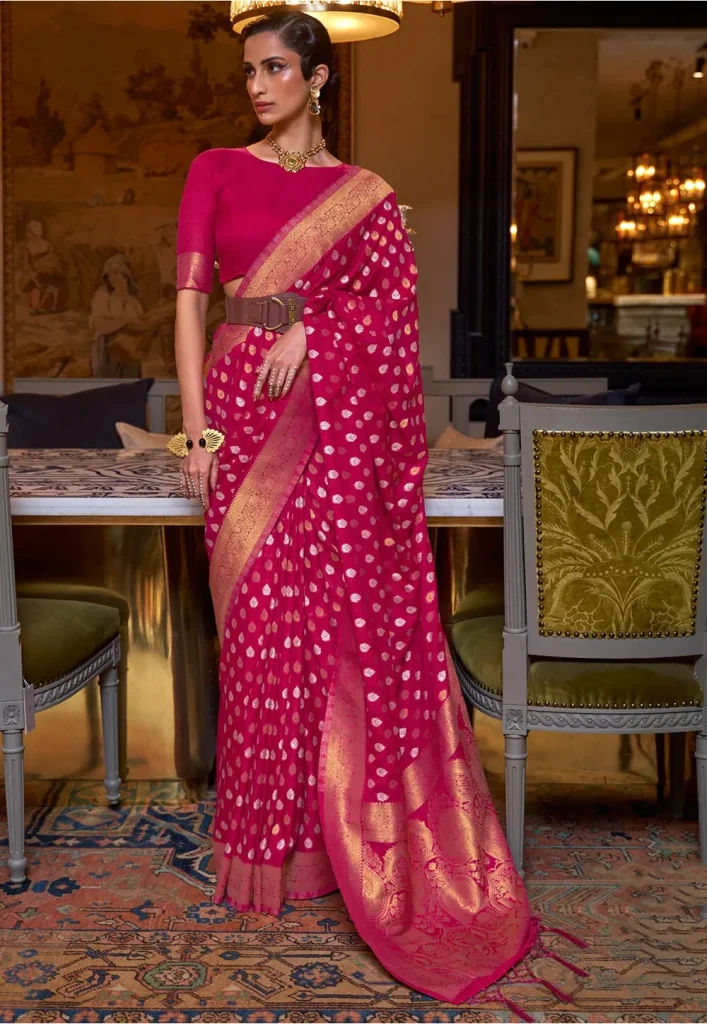 Elevate Your Indian Fashion Game with Viva Magenta Lehengas
Lehengas, a traditional Indian ensemble, offers numerous opportunities to incorporate Viva Magenta into your wardrobe. Choose a lehenga in this eye-catching color and pair it with a blouse in a contrasting hue adorned with elaborate embroidery or mirror work. The combination of Magenta and conventional Indian craftsmanship creates a striking ensemble that showcases your outstanding sense of style. Complete your look with statement jewelry and a gold or silver clutch.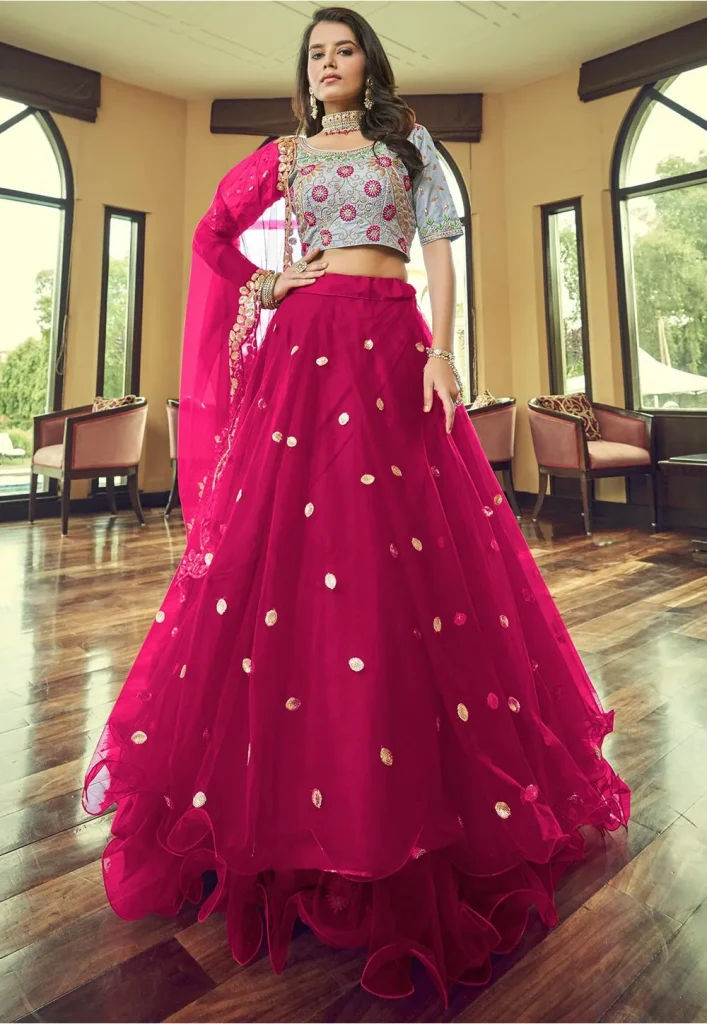 Unleash the Power of Color in Indo-Western Wear
Indo-Western ensembles provide the perfect platform for individuals seeking a combination of traditional and modern aesthetics. Experiment with contemporary silhouettes such as gowns or palazzo pants paired with a stylish peplum top or a fitted kurti. This fusion look combines the vivacious hue of Viva Magenta with contemporary cuts, creating a fashion-forward statement. Complete the outfit with chunky silver or gold jewelry and strappy heels to elevate your style game.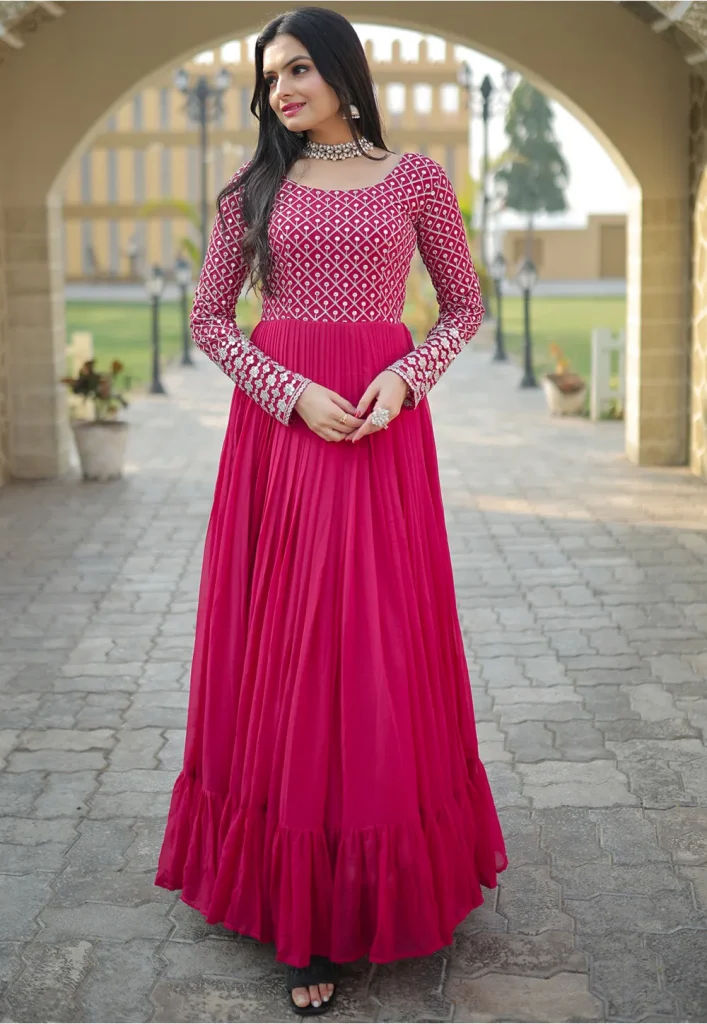 Make Heads Turn in Viva Magenta Anarkali Suits
A gorgeous Anarkali suit is a splendid choice for those who appreciate the charm of tradition. The elegant flow and classic appeal of the Anarkali silhouette go wonderfully with the rich and brilliant shade of Viva Magenta. Whether you're attending a festive celebration or a formal gathering, this ensemble exudes elegance and sophistication. The meticulous craftsmanship and attention to detail add an extra layer of allure, making you the centre of attention wherever you go.
Stand Out with Traditional Indian Men's Fashion in Viva Magenta
For men, incorporating Viva Magenta into traditional Indian wear can be done effortlessly. Opt for a Viva Magenta sherwani, a traditional Indian jacket, complemented with contrasting bottoms in neutral shades such as black or white. This combination gives the sherwani a modern twist, making it a unique and stylish choice for weddings or formal occasions. Complete the ensemble by adding embellished mojari shoes and a pocket square in a complementary color.
Accessorize with Viva Magenta 
Accessories play an essential role in enhancing any outfit, and embracing Viva Magenta is no exception. To create a dramatic statement, incorporate this bold color into your accessories. Opt for a Viva Magenta clutch or purse with elaborate beadwork or embroidery to add a pop of color to your overall ensemble. Additionally, choose statement jewelry pieces such as earrings, necklaces, or bangles in shades of gold or silver with Viva Magenta accents to elevate your style and draw attention to your vibrant choice of color.
Conclusion
Embracing Pantone's Colour Viva Magenta of the Year 2023 with Indian wear panache brings up a world of intriguing options. This lively color gives your Indian wear wardrobe a modern twist and goes well with everything from traditional sarees to gorgeous lehengas and fusion ensembles. Embrace the spirit of Viva Magenta and exude a confident and energetic style in the year 2023!