Indian anarkali salwar suits are ubiquitous today. Everyone from supermodels, celebrities, and housewives are sporting these elegant ethnic outfits. Most people associate Anarkali salwar suits with the Bollywood epic Mughal-E-Azam. The iconic suit worn by the character of Anarkali became widely popular as the Anarkali salwar suit and has come back into fashion in recent years in a big way.
However, the true origin of this style of clothing are the actual Mughal courts where this was the preferred dress of noble women and courtesans. While the form has evolved to provide a lot of different Anarkali suit designs. But the essential grace and sophistication of the structure remains unchanged. This clothing is essentially a salwar or churidar suit with a distinctive kameez design.
The silhouette imitates a well-fitted blouse and a skirt. Though it is, in fact, one piece somewhat similar to the empire waist gowns from Greece albiet more tightly fitting.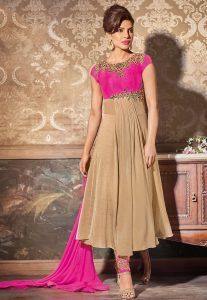 The lower part starting below the bust flows out in a flaring design while the upper part is similar to a choli or blouse. The length is generally long reaching below the knees, sometimes all the way to the floor.
The sleeves are typically full, although modern innovations with shorter sleeves are also fashionable right now. The final piece of the outfit is the dupatta or the scarf which can be draped in a variety of ways around the outfit.
Sometimes an ethnic jacket is also added, either long or short, similar to the style worn by Madhubala in Mughal-E-Azam.
The churidar, similar to long tights which bunch up around the calves, are the pants most often used in Anarkali suits' designs. However, the classic salwar can also be worn. The increased popularity of this outfit has led to the emergence of many diverse designs of Anarkali suits.
There are simpler anarkali suits with price tags that won't burn a hole in your pocket; these plain, yet chic, outfits are more suitable for relaxed parties or semi-formal occasions.
On the other hand, Anarkali designer suits utilize the most lavish fabrics, expensive embroidery styles and intricate embellishments to create outstandingly beautiful outfits with innovative, eye-catching silhouettes.
Designer inspired beauties
Designer Anarkali dresses are typically made of expensive fabrics like brocade, velvet, net, satin and organza. Other high-end fabrics which are frequently used are luxurious silk varieties like Banarsi, Tussar, Kanchivaram, Jamawar, and Bhagalpuri  as well as crepe, georgette and chiffon.
When it comes to Anarkali suits, India is one of the best destinations to purchase since the outfits here come adorned with astonishing varieties of prints, embroidery styles and embellishments.
This includes gold prints, gold threading, resham, stone and sequins patterns, beads designs, appliqué work, Booti work, Bagh Print, Phulkari and many other region specific techniques which have achieved international fame today.
Since the best Anarkali suits are those that perfectly embody the opulence and regality of the Mughal court, most designs incorporate glittering Indian motifs and patterns either all over the kameez or are limited to the border or neck region.
This also influences the choice of color, with rainbow hued combinations like turquoise, pink and gold, saffron, jade and silver or mustards, crimson and bronze being frequently seen. On the other hand, even the subtle or muted combinations like white with gold embroidery have an elegant charm.
Wearing the Trend
Anarkali salwar suits are most frequently worn at occasions where the glamour quotient is expected to be high. Parties, festivals, ceremonies and weddings are great places to sport this style, preferably matched up with appropriately glitzy yet traditional jewelry like stone studded necklaces, dangling earrings and bangles.
You can also style it with oxidized necklace like this one. They should be worn with tiny embroidered brocade potlis and high heel sandals for a chic ethnic effect.
Even brides are seen wearing such dresses on their special day, though they will obviously go for the most elaborate, unique and sometimes customized designer Anarkali suit. For brides this look is best matched up with Kundan necklaces, Thewa jewelry, bangles, rings and stone studded mang tikkas.
The more elaborate the jewelry, the more appropriate the looks. In terms of fabric, georgette and chiffon are the favorite materials right now; while the former often comes with pretty embroideries or prints, the appeal of the latter lies in how simple yet sensuous it can be.
The unadorned garments made with these fabrics can even be worn for office wear or for a casual event. Another high-fashion style which has trickled down from the ramp to the streets is the net Anarkali suit. These often incorporate other fabrics like velvet, satin, georgette and silk and look absolutely sumptuous and truly feminine.