Indian weddings are not just special occasions; they are grand festivals filled with vibrant hues, rich traditions, and a whole lot of bling! The role of Indian jewelry in an Indian wedding is nothing short of magical. It not only enhances the bride's beauty but also tells a story of tradition, culture, and love. And if you're looking for inspiration to make your big day extra special, what better place to turn to than Bollywood's finest brides like Deepika Padukone, Anushka Sharma, and Kiara Advani? In this quick guide, we'll explore the top 10 bridal jewelry designs that are perfect for every ceremony, from mehendi and haldi to sangeet and the grand reception.
So, let's get started!
Choker Sets
Indian Choker sets are flying high in fashion these days and for a good reason. These close-fitting necklaces add an elegant element to your bridal look. Go for a Kundan or Polki choker to channel your inner queen, just like Deepika Padukone did on her wedding day. This timeless piece complements both traditional and modern bridal outfits, making it a versatile option for any ceremony.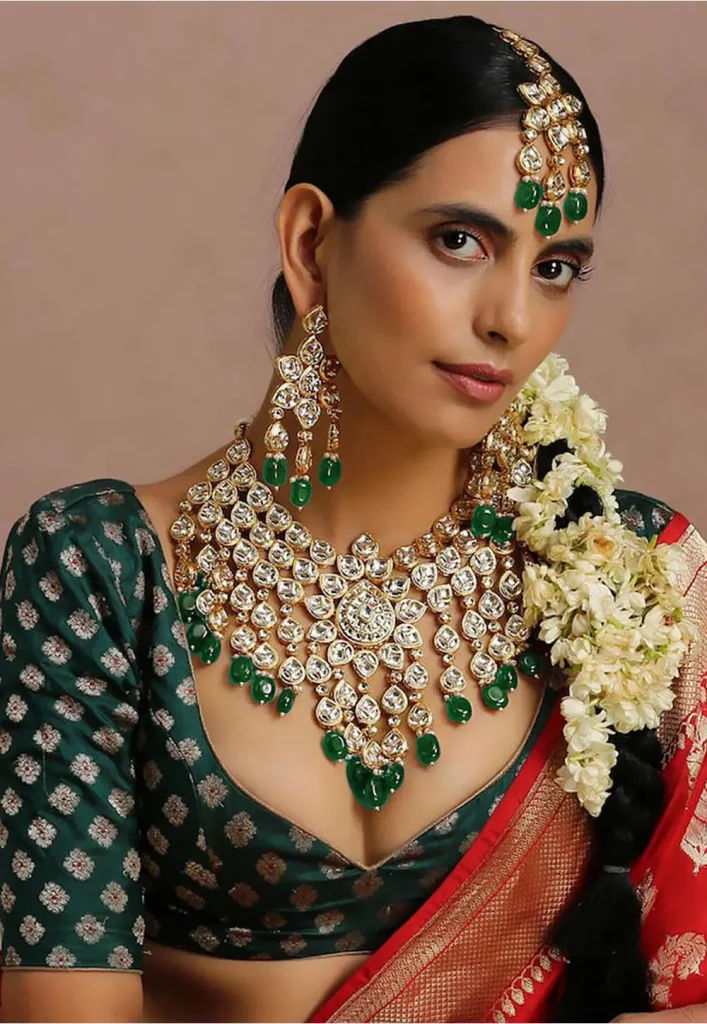 Jhumkas
Every Indian bride's wardrobe is incomplete without a stunning pair of jhumkas. These traditional earrings with delicate, hanging beads or pearls add a touch of vintage allure. Pair them with a colorful lehenga for your mehendi ceremony or a regal saree for your reception, just like Anushka Sharma.
Green Jewellery
Green jewelry is gaining fame as a symbol of fertility, growth, and prosperity. Opt for emerald or jade pieces to complement your bridal attire. Kiara Advani's exquisite emerald necklace perfectly matched her outfit, creating a harmonious and elegant look.
Kundan Jewellery
Kundan jewelry is a classic choice for Indian brides. These pieces are crafted with uncut gemstones and glass, set in gold or silver. Whether it's a Kundan maang tikka, necklace, or bangles, this traditional design will elevate your overall bridal ensemble.
Temple Jewellery
Embrace your cultural roots with temple jewelry. Inspired by the intricate designs found in South Indian temples, this style features depictions of gods and goddesses. Opt for temple jewelry with a traditional Kanjeevaram saree for a classic bridal look.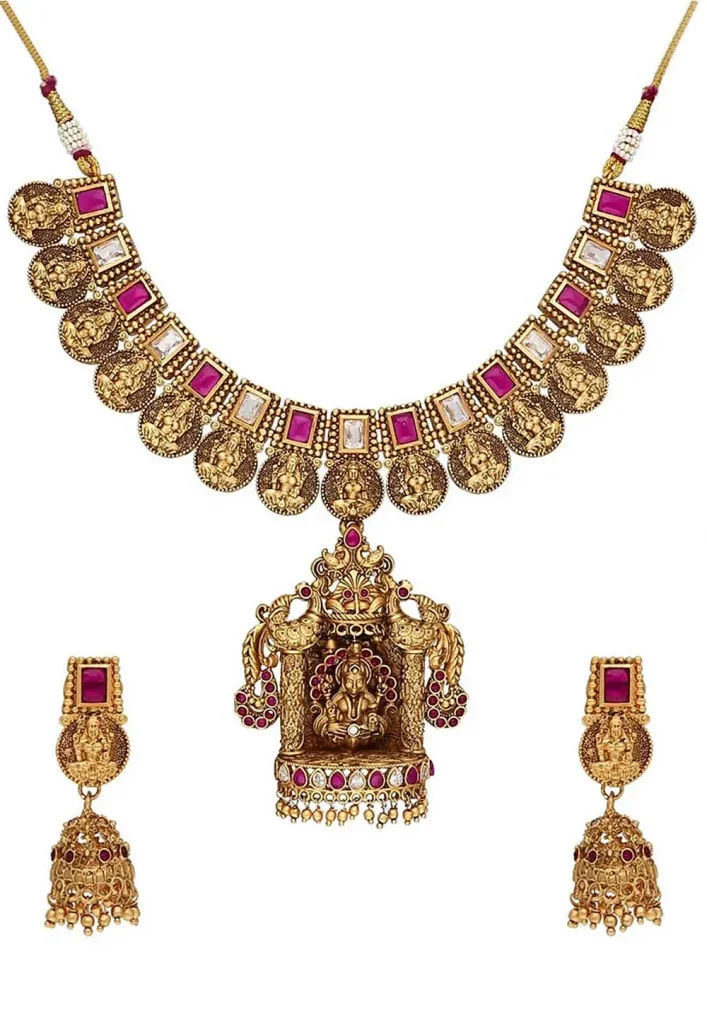 Pearl Jewellery
Pearl Jewelry has an innate elegance that can transform any bride into a vision. From pearl necklaces to bracelets and anklets, these timeless gems can be worn for any ceremony, making you look like a true queen on your wedding day.
Kada Bangles
The melodious jingle of kada bangles signifies the celebration of love. These broad, ornate bangles can be worn on one or both wrists and are perfect for mehendi and haldi ceremonies. Go for gold or silver, depending on your outfit and personal style.
Mathapatti
Add a touch of royalty with a mathapatti. This forehead ornament drapes gracefully over the head and is often adorned with pearls, kundan, or intricate gold designs. It's a favorite among brides for their sangeet or engagement ceremonies.
Layered Necklaces
Layered necklaces add depth and dimension to your bridal look. Mix and match necklaces of varying lengths and designs to create a customized statement piece that complements your outfit. This versatile style is ideal for your sangeet or engagement ceremony.
Stone and Bead Jewelry
Incorporating colorful stones and beads into your bridal jewelry can add a vibrant element to your ensemble. Choose designs that match your outfit's color palette to achieve a cohesive and eye-catching look.
Now that we've explored these top 10 bridal jewelry designs, let's talk about how each design complements specific bridal outfits:
For the mehendi ceremony, opt for vibrant hues like yellow, green, and orange to signify joy and celebration. Choker sets, jhumkas, and layered necklaces with floral motifs are ideal options.
Haldi ceremonies call for bright and cheerful attire. Adorn yourself with green jewelry or Kundan jewelry to bring out the warmth of the occasion.
The Sangeet is all about dance and celebration. Elevate your look with layered necklaces and mathapatti to capture the attention on the dance floor.
The grand reception is the perfect opportunity to showcase your elegance and style. Choose regal pieces like choker sets, pearl jewelry, or Kundan jewelry to steal the show.
Wrapping Up!
An Indian wedding is a grand festival where traditions, culture, and love come together in a spectacular celebration. The role of jewelry in this extravaganza is indispensable. Take inspiration from Bollywood's best brides like Deepika Padukone, Anushka Sharma, and Kiara Advani to create a bridal look that is not only stunning but also deeply rooted in tradition. These top 10 bridal jewelry designs will guide you to shine bright on your D-day, whether it's mehendi, haldi, sangeet, or the grand reception. So, go ahead, embrace your inner queen, and make your wedding a truly unforgettable experience with the perfect jewelry!