Stone work is one of the most exquisite and ornate ways to decorate any fabric. It is widely employed in the fashion industry to decorate special occasion fabrics and clothing of all types. Though it is one of the most ancient forms of ornamentation and decoration, it has evolved over the years; it is still considered one of the most versatile and beautiful ways to decorate a fashion accessory. In Indian culture, stonework has been used for many centuries to decorate not just clothing items and fabrics but also shoes of all types.
Stonework footwear is available in a plethora of traditional as well as modern varieties. The ancient technique of using sparkling, colorful stones to decorate footwear has been adapted by modern designers. Thus one can find stone shoes with traditional designs, such as would be seen on the feet of the Nawabs and Maharajas of olden times, as well as stone footwear with innovative, modern designs, fresh off the ramp or red carpet.
Stonework, as the name suggests, makes use of stones of all types and sizes. Typically, stones used for ornamentation purposes are polished to give them a distinctive sheen. Precious and semi-precious stones were the favorite embellishments of the royals, but this is not really a financially feasible practice for artisans today as very few people would be able or willing to purchase such impractical shoes nowadays. Instead, artificial stones, fake gems, crystals and polished mirrors are used to achieve the same effect.
All types of colors may be used, from bright purple and green to yellow, red, white, pink and orange. A single shoe may have evenly sized stones of the same hue, or it might have multiple stones of different sizes and colors to create a more visually interesting design. It all depends on the artistic vision of the designer.
Variety Of Stone Work Footwear
There are certain varieties of stones that are more popular than others. For instance, clear diamonds are very appealing, as they have a pure and pristine sparkle and pair well with a wide variety of outfits. On the other hand, blood stones have also become very popular. These striking red stones can be used to decorate different types of shoes. These shoes often showcase the brilliant gem right in the center and surround it with smaller, white stones to create a pleasing visual contrast. Even western style shoes often come decorated with this typically Indian gem; stone boots have become all the rage in the west.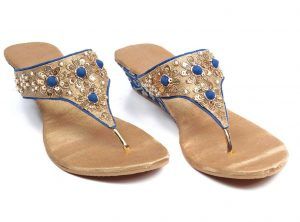 Some designers use tiny stones to create brilliant, intricate patterns all over the shoe. Such glamorous designs are often seen studding high heel sandals and other such evening wear shoes. On the other hand, a single, large stone is often used as a statement ornament piece to decorate closed-toe pumps. Here, the color and shape of the stone is the main attraction of the shoe.
Indian designers often use interesting Indian motifs to decorate the shoe. The stones are used to stud key points in the design in order to draw the attention of the eye to the certain areas. For instance, a shoe with a peacock design might have a single stone studding the eye of the bird, and smaller stones decorating the tail. Nature inspired motifs of flowers, birds, animals, trees and flowering branches are also very popular with Indian shoe-makers.
Style Tips
India has a wonderful range of exquisite stone footwear to offer to the world. The advent of fast, efficient and cost-effective online shopping has made it extremely easy for people living across the world to browse and buy authentic as well as designer stone shoes online. Whether it is a pair of glamorous black stone shoes for a party or special event, or pair of cute and casual stonework slippers for daily wear, women will find a variety of options to choose from.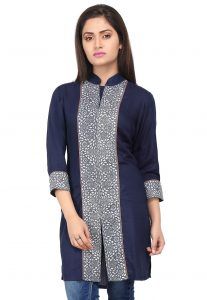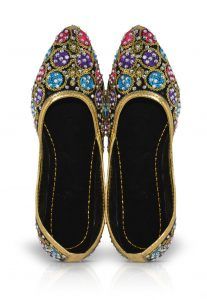 They can also purchase gorgeous Indian dresses to wear these glamorous shoes with, though there are many modern shoes which can be easily paired up with western ensembles as well. Essentially, any outfit with stone work on it would be a good choice to pair up with stone footwear. This includes designer stone work sarees, layered stonework lehengas, stone work Anarkali or Kurtis. This kind of glamorous ethnic party wear look can be completed with some pretty pieces of stone studded jewelry in a matching hue. To ensure that the ensemble does not come across as gaudy, women should balance heavy work on the outfit with lighter pieces of jewelry, and vice-versa. The stone footwear can work as the penultimate touch to bind the outfit together.