The mangalsutra is a special type of necklace tied around the neck of the bride by the groom during an Indian marriage ritual. It is an important and inseparable part of every Indian wedding and symbolizes the completion of the marriage between a man and a woman.
Mangalsutra literally means 'auspicious thread' in Sanskrit. It is supposed to be the most important piece of jewelry worn by a married Indian woman and serves as a cognizance of the institution of marriage. In her wedded life, she is supposed to wear it at all times, as it is meant to attract good luck and good fortune for her family. It is also supposed to preserve the well-being of her husband.
Symbol of Indian women
The traditional mangalsutra entails a lot of cultural and religious significance. It is the Indian equivalent of the wedding ring. However, it is antithetical to the wedding band since it is worn only by the woman.
However, nowadays, the mangalsutra's significance has transcended from being religious to more cultural. It has undergone tremendous change both in individual perceptivity and societal viewpoint. A lot of women use it to accessorize their outfit.
Though it does have a ritualistic value, it constitutes the everyday life of a woman and as such has a tremendous amount of styling and fashion potential. This is precisely why you have a plethora of mangalsutra designs in the market today.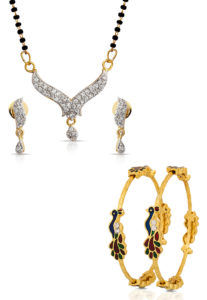 The classic design consists of a string of black beads with a central, yellow gold ornament, which is considered the most important part of the piece. These are usually strung from a yellow or black thread. There is a huge amount of regional variation in mangalsutra patterns. In Maharashtra, there is an inclusion of two vatis or ornaments, while in Gujarat the prevalent custom is to have diamond and gold mangalsutras.
Heavy gold plated mangalsutra designs exude a luxurious look and can enhance the beauty and wealth of any woman's daily wardrobe. These are not strictly traditional but have become very popular amongst certain communities in Gujarat.
In fact, latest mangalsutra designs are often very contemporary in their look, with a lighter feel and more simple designs, which appeal to the tastes of modern women. Such pieces are very versatile and can be easily matched with office wear and party wear.
The beauty of the golden mangalsutra, complete with the pretty central ornament, gold beads or gold chain, is that it is luxurious and exclusive, without being overly glamorous. Since Gold is considered to be an auspicious metal in Indian culture, its usage in mangalsutra is absolutely appropriate. It also contrasts well with the traditional colors of black and red, which are used in the beads.
Another latest trend in India is the artificial mangalsutra. Here, the main appeal is that the piece is not very expensive and can be worn in daily life without the apprehension of carrying around an expensive piece. You can find many trendy and experimental designs in artificial mangalsutras.
Many of them have a minimalistic design with a simple chain and ornament, while others incorporate intricate motifs around the pendant along with different colors in the chain and other such interesting variations. Women can choose the type that best suits their tastes and requirements.
Living in the modern world, Indian families around the world can now easily access traditional Indian jewelry and clothing. The same applies to mangalsutra; online shopping. This mechanism has made it extremely easy for anyone residing in international locations like Dubai, Singapore, U.K, U.S.A and Australia to browse different types of mangalsutras online, pay for them and get them delivered right to their doorstep.
Mangalsutra designs
Though mangalsutras are a part of traditional Indian culture and customs, they are also a part of most modern women's wardrobes and as such, designers are incessantly coming up with interesting variations that accentuate the beauty and stylishness of the mangalsutra.
The best part is that it does affect its traditional essence. From gold plated, diamond encrusted necklaces that have a unique, luxurious sparkle, to simple, single string necklaces with minimalistic round ornaments or vanis, the range of options for Indian women today is admirably wide.
Styling with mangal sutras is actually quite easy. They typically have beads of black and gold, which pair well with most colors. If women want to showcase their mangalsutras, they can wear them with a low-cut salwar kameez or saree blouse.
Undoubtedly, the best way to highlight the beauty of the traditional mangalsutra is to wear it with the clinching bridal combination of red and gold. Any outfits incorporating these colors, from a gorgeous chiffon sari to a heavily embroidered anarkali suit, will look great when paired with a classic mangal sutra.
Ultimately, wearing this piece of jewelry is a personal choice that balances the traditions and vestige of Indian heritage against the often conflicting demands of today's fashion. With the many trendy and beautiful varieties of mangalsutras available online, women can have the best of both worlds.