Jewelry an aid to personal beauty has been an indispensable part of India since ancient times. However, as time progressed, people became more innovative and creative in terms of designing jewelry. Consequently, Indian Jewelry captured a wide market all over the world due to its international appeal, and it was exported in large scale across the globe.The ethnic designs appeal to the masses and the precious stones and gems make it all the more popular in the international market.
Jewelry style in India differs from place to place. But mostly it is used as an identity marker, as security and for investment purposes. Undoubtedly, the customers these days have a wide variety and ample of choice in terms of selecting jewelry.
Also with improving taste and choice, the current standing customer doesn't hesitate spending a large amount of money on jewelry. Indian Jewelry is the most sought after around the globe today. The un-denying fact being, glitter of Indian Jewelry has fascinated all, across time and space.
Indian jewelry forms the vital part of our Indian traditions. Its multiple use makes it even more precious. Festivity and social events like marriages our exclusively marked by gifting of indian jewelry. For many people it forms a part of there social status. Hence, they do not really prefer to compromise with the same. Even in Indian temples across the country we cannot visualize the colorful decor of the deities without traditional Indian jewelry.
Also, it will be apt to say that Indian jewelry is an unmatched work of art. Its esthetic beauty and novelty is indeed responsible for its growing demand. Recent studies have shown that designing of indian jewelry is getting more and more professionalized. This can be understood from that fact that many foreign students come to India to study various vocational courses in understanding the craftsmanship and designing behind Indian jewelry.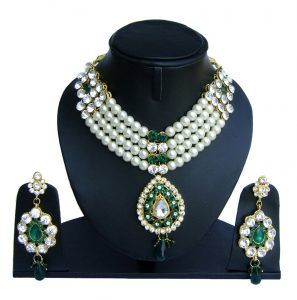 No wonder, indian jewelry has become an attraction for ladies in parties, weddings, and formal gatherings in India, Canada, United Kingdom, USA, Australia, Germany and several other countries all over the world.
Indian jewelry is clearly the flavor of choice in the West and also the designer choice from the World's Hottest jewelry designers. You might have seen these amazing jewels worn by the leading Indian actresses in Hindi Bollywood movies too. These include the leading ladies Kareena Kapoor, Preity Zinta, Aishwarya Rai, Rani Mukherjee, Kajol, Sushmita Sen, Lara Dutta, Priyanka Chopra, Neha Dhupiya, Madhuri Dixit, Karishma Kapoor, Ameesha Patel, Raveena Tandon, Amrita Rao, Rekha and several others.