Hoop earrings have been a popular form of accessory since time immemorial and are worn across cultures by women and, in certain styles, men as well. These earrings are mostly popular because of their versatility in terms of usage and though they originated as a form of casual jewelry, there are now different sets available in India that can be incorporated into a formal setting with ease. Hoop earrings are considered trendy in countries across the world and come in both western and Indian designs.
In terms of the kinds of metals that are used to create more formal styles of these earrings, gold hoop earrings are used as a base to create interesting Kundan earring sets. In these sets, the metal is used as a base and designed in a circular shape to stay true to the shape of the hoops. However, additional diamonds and stones are then added onto the framework to create the desired styles.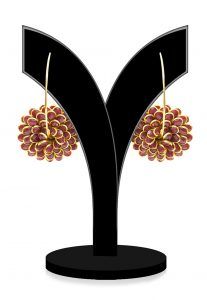 This is an extremely interesting way to bring together traditional Indian jewelry styles with contemporary fashion pieces in order to create a look that imbibes the best of both worlds. As a general rule, pieces like these can be worn by women of all ages to different events, depending on the overall style.
Traditional Hoop Earrings For Formal Times
Similarly, silver hoop earrings can be used to create the base of another popular style of jewelry called Meenakari jewelry. Meenakari jewelry usually uses a silver base on which different colors are used to create intricate patterns, usually floral, predominantly in red and blue hues. Meenakari is also a style of jewelry that is seen a lot at formal occasions, festivals and ceremonies.
Similarly, both gold and silver metals can be used to create Polki sets and designs, which incorporate uncut diamonds and are especially popular in states like Rajasthan. In all these styles, the jhumki style can also be incorporated by letting a small umbrella like shape hang from the hoop itself. The umbrella is used as a support for smaller bells that sometimes tinkle. White gold hoop earrings can also be used to create interesting Indian designs as well.
Contemporary Hoops For Casual Hangouts
Contemporary hoop earrings tend to be a little more on the casual side and are worn mostly by younger women as well as young working professionals. These are not as elaborate as the Indian adaptations of hoop earrings and usually just comprise of a single loop created by either golden or silver colored metal. Plainer forms of these earrings are also available in different colors and sizes. They can be used as accessories in an extremely easy way.
Pretty Ways To Flaunt
As stated before, hoop earrings are extremely versatile and can be worn with almost any outfit. Rose gold hoop earrings can be paired really well with western tops and tunics as well as pink kurtis or pink Indo western attire. The more casual styles of earrings that are meant to be slightly plainer can be worn with jeans and a regular shirt as well as general accessories to accompany it like bracelets or chunky rings on your fingers. Large hoop earrings look extremely chic when worn during night based events such as clubbing or lounging as it gives a slightly dressed up look even when worn with casual simple clothes.
Women can wear small gold hoop earrings only when the rest of the accessories are needed to be kept in focus. For instance, if you're wearing a chunky necklace or a statement necklace along with a dress, adding large earrings might just overpower the entire look and sabotage the elegance. Black hoop earrings can look extremely interesting with a salwar kameez set, especially with one that is extremely colorful or heavily printed with different patterns and prints.
When going for a formal event where one may need to wear a saree, a great way to accessorize it is to wear formal accessories such as Kundan hoop earrings as they will add the just right amount of color to your entire ensemble and make the outfit and shine. Kundan hoop earrings will in fact match well with any traditional looking outfit with gold work designs prominently displayed on it. This can be complemented with a pretty gold necklace and gold bangles.