What fashion does to its followers these days is sometimes unfair and even painful. A woman may be obliged to wear extremely high heels, or unhealthy curved shoes, or an awful pair of sandals that she hates, just because she saw a model wearing them on a runway. A woman deserves beauty and comfort in her footwear. Behold Glitter Work footwear. Glitter Work footwear is on its way to penetrate numerous markets with its variety in styles, colors, materials and shapes in Indian footwear. These are exquisitely designed with stones and sequins in addition to glistening Indian embroideries.
Indian Glitter Work women's shoes are some of the most trusted products to shop for online because the beauty displayed on screen is the same a lady would hold in her hands when delivered. Glitter Work gives no fake promises and no photo tricks to make their products look more appealing for their potential customers. There is a wide variety of Glitter Work womens shoes that are waiting to be checked out.
Glitter Work footwear, including glittery chappals are perfect for daily use come in every sort and color. This particular kind of Glitter Work ladies footwear never involves nails or any allergic materials. Their entire body of leather makes them extra flexible and heavy-duty. Their fame is growing everywhere in the world, which makes them the stylish footwear nowadays.
Mojaris
Glitter Work's mojaris are for all practical and classy ladies. The toe cap is beautifully embroidered over the toes area in a charming m-shaped curve. Mojaris, as wonders of stone work and embroidered footwear were worn by Maharajas in the past and now by classy women. Mojaris are must-have for every lady as they are reliable and durable footwear in the unique collection of Glitter Work ladies footwear. Their one of a kind embroidery work makes them suitable to be worn anytime and anywhere as they come in every color and style.
Glitter Work sandals come in a vast variety. There are gladiator sandals, flat, heels, cross patty, back zipper and more. They are a very crucial element of Glitter Work footwear collection. In Glitter Work ladies footwear collection, sandals hug a woman's feet smoothly with their comfortable leather, giving a woman the confidence and reassure to live the day to the max. Glitter Work ladies footwear display is full of various styles of gladiators. Many of their gladiators have a Velcro strap at the side for personal fit and have a soft foot-bed.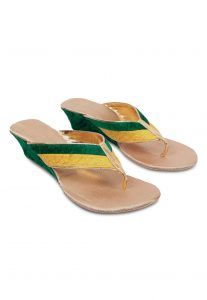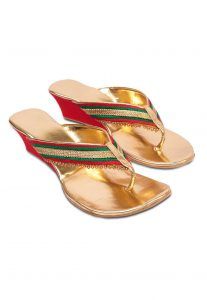 Be prepared for the finest of all the Glitter Work womens shoes collection, the slip-ons. Many of which are embroidered and some are even fully handmade. Their embroidery work is available in stones, bead works, Debka works, glitter work and others. In the collection of Glitter work womens shoes slip-ons are available in different kinds of heels and in a variety of colors. They have toe-ring, v shaped, bridal style, wedge heels and more. Slip-ons are for every occasion, they add to a lady's beauty and grace. They are a must-have for every woman's wardrobe.
Whatever style, color or shape of footwear any woman is looking for, it will be found in Glitter Work ladies footwear display. Because Glitter Work womens shoes collection beautifies a woman and gives her the unique final touch.