Every culture has certain clothes and jewelry pieces that hold a special place of significance, either religious or social or both. In western cultures, the ring is an important piece of jewelry which becomes especially important at weddings; in Indian culture, an auspicious accessory is the bangle, particularly the glass bangle.
Bangles have been part of Indian culture from ancient times and are worn even by men, though of course in a different style than women. They are especially significant for married women or women about to be married as the bangle is considered a symbol of fertility and good health.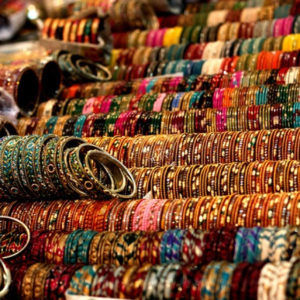 In many regions of India, bangle bracelets are considered a necessary part of the bridal outfit and brides are expected to wear them for as long as possible, extending to months or even years.
The breaking of the last bangle marks the end of the honeymoon period for the couple. However, bangles' designs are so beautiful and varied that they have gone beyond this powerful albeit limited cultural appeal. Now, they are recognized as a pretty Indian accessory which matches perfectly with a variety of Indian outfits and can even be worn with Indo Western or western looks.
Very Indian glass bangles
Women's bangles differ from the general idea of a bracelet, though in essence they are a sub-type of the broad category of bracelets. The bangle is a rigid cylinder as compared to the flexible bracelet 'chain'. Glass bangles' design can either be the inflexible cylinder without a break, which comes in various sizes to make it easy to slip on and off; or, it can be split using a clasp.
Glass bangles are amongst the most stunning bangle variations in India. The glass artisans who produce these use a lot of advanced techniques to make them subtle and beautiful to look at. Like all glass jewelry, glass bangles have the minor disadvantage of being brittle and easy to break. This is why, Acrylic bangles are taking the centerstage. As these are not brittle and last longer.
However, this can be somewhat mitigated by the type of glass mixture used. Various glass mixtures will have different rigidity levels which will influence the fragility of the bangle. Less rigid glass mixtures are more costly as they have greater flex which makes them stronger and more resistant to breakage.
Liveliest of colors & designs
The different glass mixtures will also influence the color, design and texture of the bangles. The greatest variety of choices will probably be found in Firozabad glass bangles. In fact when seeking glass bangles, Firozabad is the premier destination as this city has the leading glass industry in India, producing a fabulous variety of glass bangles.
Another top destination is Chennai; glass bangles in Chennai have a special significance as these are probably the most commonly worn ethnic accessory amongst women there, even with casual or every day outfits.
The variety of options in glass bangles is quiet astonishing. The plain, simple, translucent glass bangles come in a rainbow range of colors, with blue, yellow and green being the most popular choices. One can also find the more opaque and thick glass bangles with swirls of multi-hued patterns.
Metallic bangles
These types of glass bangles' designs come with a simple metallic addition at the clasp or at two ends of the cylinder. Apart from these unadorned bangles, one can also find a lot of glass bangle designs which incorporate bulky decorations. This includes stones, gems (precious and semi-precious), pearls, beads or even bells as well as gold or silver filigree.
These can be molded on and around the glass setting and add a touch of ornate design to the accessory. Thus there are many different bangle designs to choose from. They are priced depending on the type of glass mixture and decorations used; the plain bangles are typically cheaper while those made of more costly mixtures and with costly additions will be more expensive.
Traditionally, one could buy glass bangles wholesale from authentic sources like bazaars and markets. However, nowadays, glass bangles can be found everywhere as they have become an integral part of Indian fashion.
Styling your glass bangles
Glass bangles can be worn with almost any Indian outfit for a fun ethnic look. The brightly colored varieties enameled with gold look great with bridal sarees and lehenga cholis while the plain, unadorned bangles should be worn with salwar kameez.
The most ornate glass bangles with pearls and gems should be worn for special occasions like festivals and weddings with appropriately embellished and embroidered silk sarees or designer lehenga cholis.
Glass bangles can also be worn with Indo Western outfits like kurtas and tunics. A great styling tip is to match the color and pattern on the dress with the hue and design of the glass bangles, this creates a subtle yet attractive symmetry in the outfit and enhances the elegance of the look.