An evening clutch is one of the most popular evening wear accessories with formal outfits. It is essentially simply a small sized purse or bag which is carried by women at events where large handbags would look odd. Evening clutches are so named because they are clutched in the hand and are largely worn for evening events such as parties. Small evening purses were first used in Europe centuries ago, and came in the form of small netted purses in which ladies could carry tiny items like smelling salt bottles.
These bags went out of fashion for a few decades but came back during World War II, when the scarcity in materials made the use of small sized bags a necessity. From then onwards, clutch bags became a staple in women's wardrobes and an extremely popular option to pair with formal clothes. Today designers have come up with a lot of different types of clutches and evening bags in a wide range of colors, designs and patterns.
A purse has become ubiquitous not just in western but also in Indian fashion. The universal appeal of this tiny accessory lies in its combination of utility and elegance. The small size of the purse ensures that it does not look out of place at any formal occasion and can be easily carried without a hindrance.
Your clutch purse adds a subtle touch of elegance and color to the outfit and can also be an extremely glamorous accessory in itself. At the same time, it is the perfect size to hold various small essentials such as car or house keys, make-up items, cell phone and wallet. After all, these things are just as necessary at a formal evening soiree as at a day time picnic!
Bags and clutches are all usually small, but nevertheless come in a lot of different shapes and sizes. The classic square and rectangular shaped clutch bags made of hard materials like wood, plastic or cardboard are eternally stylish and can be easily carried in the palm of the hand. Besides these, designers are producing more funky shapes such as circles, ovals, octagons and stars as well.
The size can vary between palm-sized and almost arm-length, depending on the look of the purse. Soft evening bags clutches made of rich, thick materials are also extremely popular with women. They are often attached with strings or a hoop to the wrists, and can thus be dangled. This creates a very stylish and fuss-free look. In order to make the evening clutch bag more practical, designers often attach a long metallic string to it so that it can be hung from the shoulders at the side rather than be clutched in the hand.
Embroidered or embellished potlis
When we think of evening clutch bags, UK, USA, Australia, France and other such western countries are the first ones we think of as they are the major producers of these accessories. However, India also has its own version of the evening purse, called the Potli.
Potlis are soft, small drawstring pouches with a hard bottom that are frequently made of rich velvets, embroidered brocades and other opulent materials. Even the strings in the purse are made of braided silk ropes and are often decorated with colorful tassels. They are usually decorated with intricately embroidered designs of ethnic motifs like flowers, fruits and birds and may even feature dazzling Indian work such as zari, zardosi and ek taar.
Even the western style evening clutches are usually very glamorous and ornate in their look. They may come decorated with beads, rhinestones, crystals and sequins work intertwined into elaborate patterns.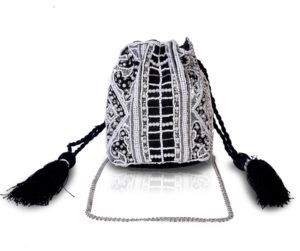 Alternatively, they might be made of plain but colorful silks, velvets or satins gathered to emphasize the richness of the material. The gold evening clutch and the silver evening clutch are two of the most popular accessories with western evening wear. They can either be made of shining silk materials or encrusted with metallic sequins or beads.
Style tips
An evening clutch is the perfect accessory to add to any formal outfit, be it an evening wear party garment or a formal suit for a meeting. Many celebrities have accessorized their red carpet looks with stylish evening clutches and they often use this accessory to add a dash of glamour, class or grace to their outfit.
Ultimately, the evening clutch should be selected on the basis of the evening wear being worn. A common misconception, for instance, is that a black evening clutch will match with everything. It is a good choice with, say, a black salwar kameez, a black and red chiffon saree or a multi colored lehenga with black velvet borders; but with a silver work pink saree or a crystal border lehenga choli a silver clutch evening bag would be a better choice.