Crystals have always been associated with elegance, class and exclusivity. From royals to high society divas, celebrities to actresses, crystal bead jewelry has adorned the necks, wrists and ears of fashionable women across the world for many years. In India, crystals have become an extremely popular substitute for precious jewels in various traditional jewelry pieces.
Crystals are durable and of high quality, but ultimately much cheaper than precious stones, making them the perfect option for jewelers who want to create stunning yet more affordable jewelry for a wider customer base.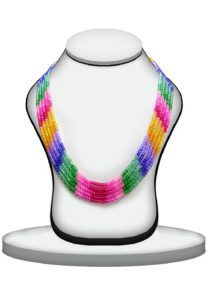 Crystal is essentially a sparkling, naturally occurring solid substance with multiple reflective surfaces which lends it a unique shine. It is perfectly suitable for various jewelry types as it can suit any kind of design or setting. It need not always be ornate and over the top, but can be quite simple and sober well.
Variety of crystal beads
The crystal beads for jewelry making can range from completely clarified to foggy, depending on the purity of the stone. The crystal clear varieties have a very timeless appeal while the unpolished ones are preferred with more antique jewelry.
The tint of the stone can also take on a hue which creates a beautiful multi-colored effect for crystal beaded jewelry. Often, white or completely clear crystals are used as the center piece of the jewelry while multi-colored crystals are used to complete intricate crystal beads jewellery designs with intertwining motifs and designs.
Crystal beaded necklace & earrings
The most glamorous type of crystal jewelry would be the crystal beaded necklace. The effect of crystals around the neck cannot be matched as they really catch the light in that position. A crystal beaded necklace looks fabulous when paired with all types of dresses, but is particularly apt for low cut evening wear.
There are many different types of crystal beads necklace designs, including simple pendants, heavy multi-layer necklaces and stylish chokers. Large white stones are often used to make elaborate pendants and work well as stand-alone ornaments, while smaller, multi-colored crystals are used to stud intricately wrought gold and silver designs.
Crystal bead earrings are another huge fashion trend today, with the 'chandelier' variety in particular becoming extremely popular. These large, shining earrings have a very glamorous look and often make the crystal the center piece . However, other varieties like smaller studs or hoops are also decorated with crystals arranged in interesting designs.
Indian kundan work
Indian Kundan work necklaces also come studded with stunning crystal beads. Kundan is an ancient and intricate technique of jewelry making that involves setting shining stones into pre-molded settings of the finest gold. These necklaces have a very refined look and can be worn for the most special occasions.
At the same time, they are more cost effective than necklaces studded with real diamonds and can therefore be purchased for parties or less formal occasions as well.
Other Indian jewelry forms can also be decorated with various types of crystals. A crystal bead bracelet inspired by Indian designs will come with delicate patterns of peacocks, flowers and other ethnic motifs, often created using multiple color stones.
Usually, crystal bead jewelry comes in a set of three with a necklace, a pair of earrings and sometimes a bracelet. Crystal beaded bracelets can be fluid or rigid, thin or thick, intricate or simple, depending on the designs of the other pieces in the set. A crystal beaded bracelet can also be a small, stand-alone accessory combining crystals with other beads and stones or simply displaying a string of crystals.
Wearing crystal beads jewelry
Crystal beads jewelry can match with practically any type of outfit, whether it is Indian, western or fusion. It is also one of those accessories that simply never go out of style. Crystals were the height of fashion during the Mughal era and are still considered classy and sophisticated.
They are a crucial part of many celebrities' classic red carpet looks, whether it is in the form of a crystal bead bracelet, a crystal beaded necklace or crystal bead earrings. With this kind of time-tested and universal approval, it is easy to see why many women consider crystal beaded jewelry a safe and easy choice.
Crystal beaded bracelets can be subtle but effective additions to any fancy saree or party wear salwar kameez, though they will match best with a sleeve-less or half sleeve blouse/kameez. Crystal bead earrings are a fabulous accessory to wear with ornately embroidered and embellished anarkali salwar kameez with a high neck style (such as a boat neck).
With an Indian evening wear outfit with a low cut, such as a deep neck choli with a crystal embellished lehenga or a v-neck abaya style salwar kameez, it is best to opt for a more ornate and eye-catching crystal beads necklace in the appropriate matching colors.